A library card is all you need to borrow materials from the Kiowa County Library. It's free and available to all local area residents. Visit the library for an application. Photo ID and proof of address are required and patrons under the age of 16 will need a parent or guardian co-sign their application.
Acceptable forms of identification include:
Driver's License with current address
State ID with current address
Current mail (postmarked within 30 days)
Recent utility bill
Passport
Residents can use their card to checkout materials and use the library's online databases at the library or by remote access. Guests are welcome to use all the library's resources while visiting the library.
To see detailed borrowing rules, click here:  Detailed Borrowing Rules
Click here for our Online Catalog and to access your account

Use our online catalog to browse and request items from over 100 participating Colorado libraries!  Log in to your account to place holds, view your borrowing history, due dates, renew items, and more!
How to use the Online Catalog:
Video Instructions
Printed Instructions
Click here for our Cloud Library

Download our Cloud Library App to get eBooks to read or eAudiobooks to listen to on your computer, tablet, smart phone, or other devices. Choose from thousands of titles!
How to use the Cloud Catalog: Quick Access
Details and How-to-videos
Inter Library Loan Service – Don't see what you are looking for?  Don't worry, we share resources with over 100 libraries across Colorado, which means you have access to over a million items!  Ask us how today! 
Library's Book Sale – We sale used books YEAR ROUND!  There have many titles and genres to choose from. Prices range from .25¢ to $1.00. Plus we have FREE magazines.  Stop by the Library to shop our sale anytime. 
*Proceeds help cover the Library's operating costs.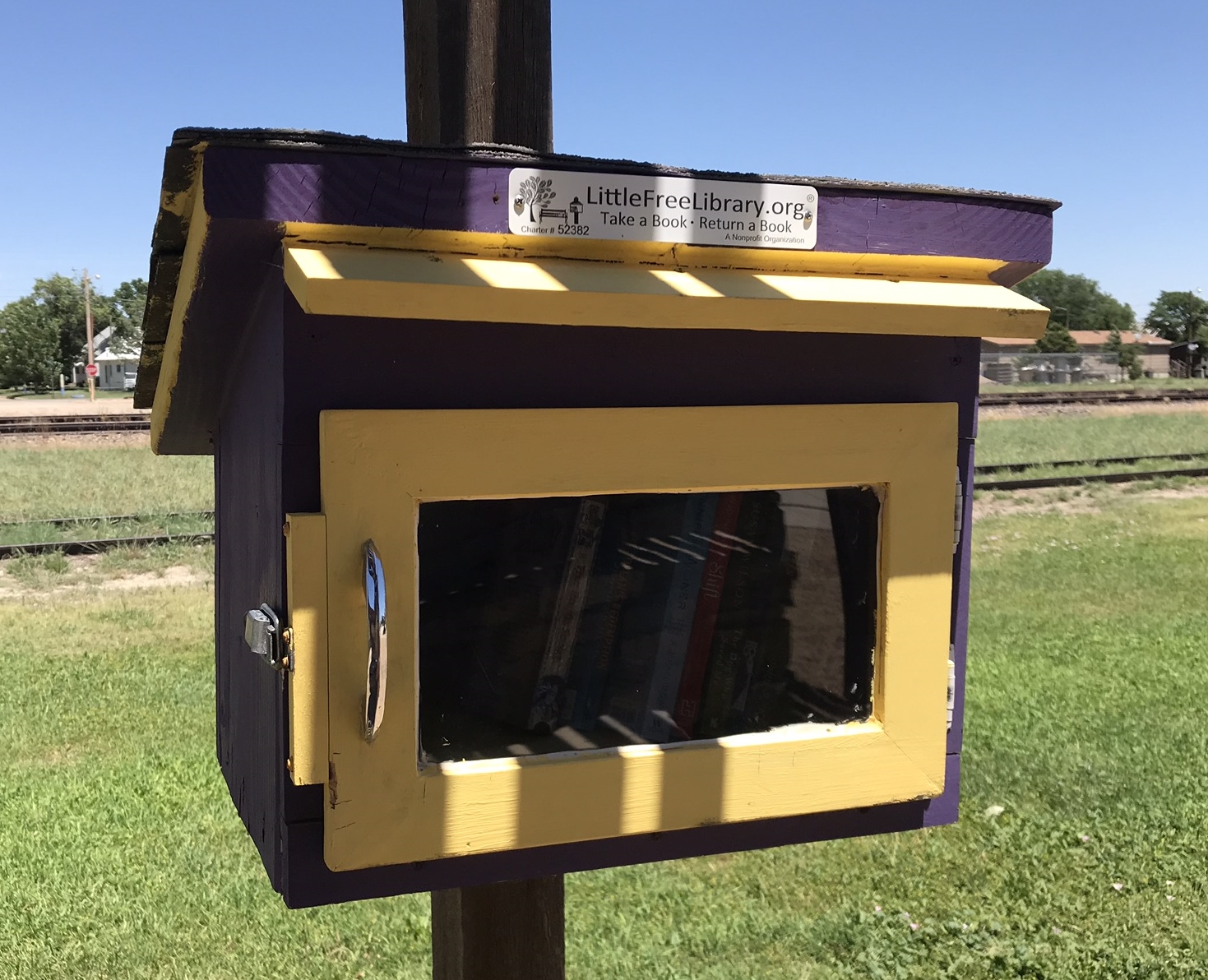 Little Free Library –
We are the proud stewards of the Kiowa County Little Free Library that is located at the Eads rest area on Hwy 287. This is just one of over 100,000 Little Free Library's worldwide!  You can find more locations by visiting the official Little Free Library map!
Programs
Summer Reading Program
One-on-One Technology Help – Call to schedule a training!
Take-n-Make Activity Bag Program – Call to request a monthly bag!
*While supplies and grant money last.
Other occasional/special programs
Computers & Other Equipment
Public Computers with Internet Access
AWE Children's Computer
24/7 Wireless Internet Access
Printing/Copying Services
Black and White  – 10¢ per page
Color – 25¢ per page
Fax Services
Incoming – $1.10 plus 10¢/each additional page
Outgoing –  $1.25 plus 25¢/each additional page
 Other Services
Fun Totes – Best used for children 8 and under!
Cake Pans – Many to choose from!
Telescope (deposit required)
Large Print Books
Audiobooks
DVDs
Magazines and Newspapers
Historic Newspapers on microfilm
Local Cemetery Database
Proctoring
Tax Forms